Welcome to Chandail
Chandail is a small shop that focuses on the enjoyment of stitching. Our personalized service will help you create timeless needlework masterpieces.
We feature exceptional needlepoint series and projects and provide a broad range of workshops and classes. And we offer an extensive collection of unique threads, canvases and embellishments.

We have a new online shop, which you can find in the right side column of this page! Remember to change your bookmark to this new site (chandailneedlepoint.com).

Happy Stitching!
---
DELILAH CAT
Filled with gorgeous threads, ribbons, beads, crystals, and wonderful stitch patterns!
Two kits sent monthly to complete this timeless piece!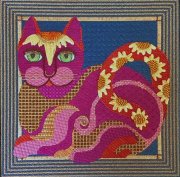 ---
MR. DARCY



Canvas by Maggie & Co.





Call the shop to sign-up for our newest project! With exquisite threads and a unique interpretation to showcase the regal Mr. Darcy. Poodle lovers, you don't want to miss out on this fabulous new project!



Stitched & interpreted by Kathy Kulesza

Stitch Guide by Cindy Howland
---
The NEWEST addition to our Christmas Homes Collection is here!


The Christmas Church is available to order, call the shop with any questions. Including exquisite threads, beads, and stitches to create this newest edition!
---


THANKSGIVING COLLECTION
by Liz-Goodrick Dillon



Our newest series includes four
double-sided Thanksgiving
figures. Stitch guides by
Patricia Sone, exclusively
for Chandail Needlework.




---



PRETTY PACKAGES
Set one is here! We will have three sets with four packages in each. Choose your favorite set or all for a total of 12 packages!






---
REMINDER: A MASK IS MANDATORY AT ALL TIMES.




WE ASK THAT YOU CALL BEFORE YOU ARE ON YOUR WAY.




ONE-ON-ONE SHOPPING TIME WITH SAIRA IS AVAILABLE WITH APPOINTMENT FOR IN-HOUSE SHOPPING OR FACETIME.




PLEASE CALL THE SHOP TO SCHEDULE.
---