---

Jewish Family







A fun, happy display for the entire year!




The seven piece series includes a beautiful snow covered house and six adorable family members. Familiar stitches are incorporated but you will learn many new techniques and stitch patterns.


The step by step stitch guides are clear and descriptive and include many photos.
Stitched by Kathy Kulesza and stitch guides by Cindy Howland.



Kit 1: Rabbi




Kit 2: Grandmother




Kit 3: Father




Kit 4: House




Kit 5: Mother




Kit 6: Son




Kit 7: Daughter



---




Tis the Season To Be Jolly!


A series of six adorable stand-ups that spell out Tis the Season To be Jolly on their respective go-carts! Go-carts are included in the kits. A spectacular display for your holiday decor, especially on a fireplace mantel! Painted by Brenda Stofft and designed as an exclusive for Chandail.
Stitch guided by Kathy Kulesza and Cindy Howland.

Please note: Background color varies in photos but they are all the same light blue.


---
Hobby Gnomes!
Available as a series or as individual kits. Choose your favorite hobbies and display the matching gnome! Absolutely adorable and fun to stitch! Designed by Raymond Crawford as an exclusive for Chandail. Stitch guided by Cindy Howland and Kathy Kulesza.

Available individually as fully kitted projects!

Cherished as a gift, a work of art and as a container for very special gifts.
The six different styles are stitched on 4 sides and a base to replicate a gift bag. The bags are just the right size to hold jewelry, small needlepoint accessories, wrapped candy, cash, keys and more! Or they can hang as ornaments for a beautiful decoration. They are stitched using brilliant colors and threads, crystals and beads.
Finished sizes average 3" by 3".
---
Beautiful stitches, techniques and embellishments bring out each witches' bewitching personality!

Stitched by Kathy Kulesza with stitch guide by Cindy Howland.
| | |
| --- | --- |
| | |
---
Day of the Dead Cats
Chandail's
cat faces are stitched with new and fabulous fibers, ribbons, Swarovski crystals and many other unique embellishments. Fast and fun and available individually!
Painted by Brenda Stofft and stitch guided by Kathy Kulesza and Cindy Howland.
Finish with Chandail's exclusive hand-made wooden stands for a one of a kind display.
See our Fully Kitted Projects page to see the cat faces individually.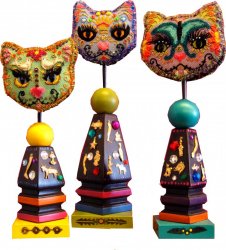 ---

Witch Hat Series
Every witch needs an assortment of stunningly stylish hats!
Painted by Brenda Stofft and stitch guided by Cynthia Thomas.
Finish with a Chandail custom cauldron for a spectacular display.



---
Little Halloween Witch Socks
Six Halloween socks bedecked with sequins and beads.
Really small and perfect for an on-the-go project.
---
Miniature Christmas Socks
Six beautiful mini Christmas Elves' Socks.
Sparkling with crystals and beads and the newest fibers. So fast and fun to stitch!
---




Crosses



Twelve stunning crosses adorned with jewels and beads.
We have a limited suppy of crystals.
Order series soon!
---
COMING SOON:

Presents!


Beautiful 3-Dimensional gifts. Finish yours like ours with ribbons and bows for a spectacular holiday display. The sleigh is available as a special order.


---


Halloween Lollipops!
A Perfect display for your Halloween decor!






---

Halloween Candy Canes
Our eight Halloween Candy Canes are fast and fun-to-stitch.
Display them in your own cauldron or Halloween themed bowl!
---
Our Halloween Village Series includes 12 Halloween characters and 12 homes.
Display your stunning work at Halloween or all through Fall!