Stitchers Best Friend

Remove stitches and tie in loose threads with this tool. It can even be used as a laying tool!


Bead Essentials Kit

Kit includes Beading Needle, Bead Nabber, Wax, Beading Thread, Bead Buddie and Beading Mat.


Two Wooden Needlepoint Tool Stations

Gorgeous wood accessories holders for your scissors, laying tools, pencils, etc.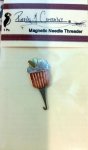 Puffin Micro Threader, Acorn

These Puffin threaders are so small they fit through a beading needle easily with thread!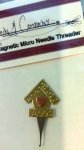 Puffin Micro Threader, Birdhouse

Thread your beading needles with ease using these micro threaders from Puffin.


Lanyard
Seam Rippers, Foldable
Wood Case for Spools of Thread

A gorgeous one of a kind box that holds spools of thread such as Kreinik perfectly.