2" Leather Key Fob and insert examples
Wood Jewelry Case for Inserts
Checkbook Case and Wallet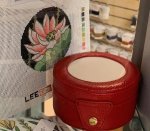 Jewelry Box Round with example canvas insert
Jewelry Case, Pink with Compartments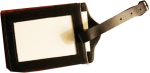 Luggage Tags with many insert choices

Refer to photos for the inserts. Some inserts will fit into different pieces. Call for help,


Wallet, Two Zippers Black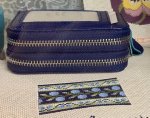 Wallet, Two Zippers Navy
Wallet, Two Zippers, Orange
Zippered Bag, Hot Pink
Needlework Case, Leather Tool Case

A lovely leather case that holds your scissors, tweezers, laying tool and more. The leather comes in various colors. It is bout the size of a large glasses case. Perfect for on the go!