And Then Came the Baby

Two beautiful birds with eyes only for each other! Fantastic design areas perfect for traditional or embellished stitching! Distributed by Tapestry Fair. 10 x 13", 18 ct.


Baby Sea Turtle Swimming

What fun this beautifully painted baby turtle canvas will be to stitch! Embellish his bubbles and stitch the water and baby turtle using our many and hard to find threads. Design by Labors of Love. 6x6", 18 ct.


Bee Bunny

Beautifully detailed bunny holding a beehive surrounded by bees! Have fun stitching this wonderful piece. Mary Lake Thompson from Melissa Shirley Designs. 6 x 10", 18 ct.


Bird in Round
Cat and Mouse Game

A delightful abstract design with a beautiful cat with stars in her eyes and a cheese head mouse! Distributed by Tapestry Fair. 8.75 x 13", 18 ct.


Flamingo with Fancy Shoes
Koko Chanel, Patriotic Pup

This pup is dressed and ready in her Koko Chanel outfit to celebrate the Fourth of July! Or she'd be great to leave out all year long for a patriotic display. Imagine what you could do with her earrings alone! Design by JP Needlepoint. 10x9", 18 ct.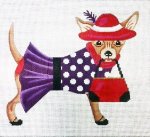 Koko Chanel, Red Hat

This pup is dressed in her gorgeous Koko Chanel outfit! We love her red panties peaking through! Choose the perfect threads and use lots of embellishments from our amazing selection. JP Needlepoint, 10x9", 18 ct.


Leopard in Grass

A stunningly painted design, this canvas is perfect to basketweave. Use our wonderful threads to do the talking. Adding different stitches would be fantastic, too. JP Needlepoint. 10x10", 18 ct.


Little Lobster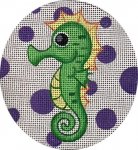 Little Seahorse
Mother and Baby Penguin Round
Owl with Checkerboard Pants
Purple Passion Monkey

Beautiful borders add a fantastic look to this traditional design with a monkey uniquely dressed in purple. What a gorgeous piece this would be as a pillow. We have the perfect threads for 13 count! JP Needlepoint. Please call for size,18 mesh.


Road Runner

Fantastic road runner with a southwestern flair. The many areas of the road runner and long borders will be great to use traditional and new stitch patterns. Try a large open pattern for the background. Design by Tapestry Fair. 10x13.5", 18 ct.


Starfish on The Beach

The beautifully painted starfish and water's edge would be gorgeous with our beads, unique embellishments and threads. Canvas design by Labors of Love. 6x6" on 18 ct.


Aqua Owl
Belt Pink Elephants
Birds in White Tree
Blue Bird Chef and Cupcake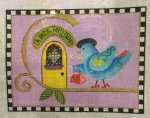 Blue Bird La Paris Millinery
Blue Butterfly
Bunny with Blue Flowers
Cat and Yellow Dog
Chicken and Eggs in Basket
Colorful Fish Patchwork
Cow and Chicken "Gossip"
Cow with Yellow Bird
Dog Party
Elephants

Elephants grazing by KCN


Flamingo Paradise
Greyhound on Yellow Background
Hybiscus, White Lilies and Birds
Lady Bug with Yellow Flowers
Lady on Horse
Lamb with Nest and Birds
Lion and Alligator
Little Chick on Watermelon Slice
Little Pink Fish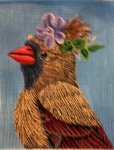 Melissa Shirley Bird with Purple Flower on head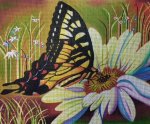 Monarch Butterfly on Flower
Mother and Baby Penguin Round
Mouse in Teacup
Owl in Tree
Owl with Jewel Colors
Pink Hen
Poodle Flag
Poodle on the Couch
Purple Fox in Dome
Purple Starfish
Purse Pup Black Lab
Red Flower and Birds with Button
Rooster with Green Patchwork

Beautiful roosters that will add flare to your decor available in green and red!


Shopping Lady Longhorn
Singing Birds in Round
Snap the Crab
Sock Monkey
Starfish Round
The Only Place by Zecca
Three Colorful Birds