A Bit of Red

12 X 6", 18M


Boo Kitty Sunflower

4 X 6.5", 18M


Cardinal

4 X 4", 18M


French Bulldog

18M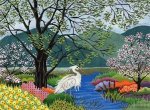 Gone Fishing

12 x 9", 18M.


Mockingbird

4 X 4", 18M


When Pigs Fly

4" round. 18M.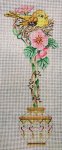 A Perfect Nesting Spot
American Eagle
Happy Spring Engineer Bunny

Three car train! Click photo to see them all.


Queen Bee Collage
Foxhole

9 x 12",18M.


One Goldfish

7 x 7", 18M.


Three Goldfish

7 x 7", 18M.


Cherry on Top
The Gang

10 x 10.75", 18M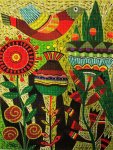 Colorful Bird and Flowers
Santa Spaniel Round
Snow Skiing Golden Ornament

4 x 5", 18M


Little Red Bird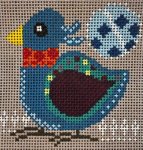 Little Blue Bird
Eagle and Flag Background
Roadrunner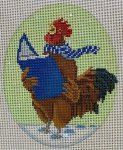 Singing Rooster
Parrot on Pink
Ewe and Chick
Big Frog
Poodle with Bone
Chorus Line with Stitch Guide
Poodle Walk in Paris with Stitch Guide
Blue Bird Round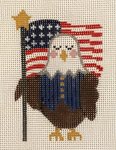 Eagle and Flag
Blue Butterfly
Golden Purse Pup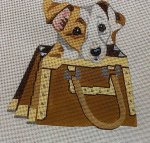 Jack Russel Purse Pup
Piggyback

John Johannsen for Melissa Shirley Designs.12x12:", 18M.


3D Bunny Hot Wheels

3D Bunny on wheels. Tapestry Fair.12", 18M.


3D Piggy Hot Wheels

3D canvas to make this Piggy Hot Wheels. Tapestry Fair. 9", 18M.


Turkey in Basket

A great Thanksgiving piece. Have lots of fun adding interesting stitches to this piece!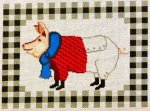 Americana Pig

Adorable pig all dressed up with long johns, red shirt and blue scarf. See the second photo showing this piece finished as a pillow.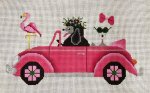 The Bug, Poodles

Poodles and a Flamingo on a drive in a pink Beetle bug! Notice the tires!


Vibrant Zebra

Gorgeous painted Zebra by Oasis Needlepoint.


Bunny with Flowers

Adorable little bunny! Alexa designs.


Rooster Black Tail

This handsome rooster with his black plumes has a great floral background, too! Painted by Jennifer Brinley from Maggie Co. & Friends. 9 x 9", 18 M.


Wacky Flamingos

A wonderfully fun pair of flamingos ready for you to embellish using our great assortment of beads and doodads! Ribbon work would be fantastic, too! VNG Canvas. 11 x 11", 18M.


Angel, Holiday Llama

The newest angel from Painted Pony has a delightful "Fa la Llama" inscription and a holiday dressed llama! A charm with a Llama and Snowflake is included. 5.25 x 4.5", 18 M.


Angel, Rescue

A brand new pet design by Painted Pony with a charm that says "Rescue". 5.25 x 4.5", 18 M.


Old Crow

A crow with hat, pumpkins, sunflowers and spider make for a fantastic Halloween design! Lots of opportunities to add unique stitches and threads. Melissa Prince. 10 x 10", 18M.


Majestic Peacock

A fantastic design for embellishing! Incorporate different patterns and thread combinations in the large design areas, too. VNG Designs. 10 x 15", 18M.


On Monday God Made Labs

A wonderful twist on Michelangelo's "Creation of Man" painting depicting our amazing connection to labs and really all dogs! CBK Needlepoint. 7 x 5", 18M.


Baby Sea Turtle Swimming

What fun this beautifully painted baby turtle canvas will be to stitch! Embellish his bubbles and stitch the water and baby turtle using our many and hard to find threads. Design by Labors of Love. 6x6", 18 ct.


Baby Sea Turtles

Baby turtles are on their way to the sea! Great fun to make sparkling bubbles for the foam and choose from our wonderful thread selection for the turtles, ocean and sand! Labors of Love. 12 x 12", 18M.


Bee Bunny

Beautifully detailed bunny holding a beehive surrounded by bees! Have fun stitching this wonderful piece. Mary Lake Thompson from Melissa Shirley Designs. 6 x 10", 18 ct.


Bird in Round
Flamingo with Fancy Shoes
Flamingos

A beautiful design by Vicki Sawyer. Fantastic areas to use a variety of stitch patterns and techniques! From Melissa Shirley Designs. 15 x 12".


Forest Collector

Orchids, mushrooms and more top this adorable hedgehog! What fantastic patterns and threads you can use to stitch this piece! Vicki Sawyer for Melissa Shirley. 7 x 9.5", 18M.


Leopard in Grass

A stunningly painted design, this canvas is perfect to basketweave. Use our wonderful threads to do the talking. Adding different stitches would be fantastic, too. JP Needlepoint. 10x10", 18 ct.


Little Lobster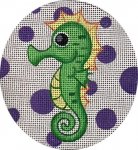 Little Seahorse