Santa with Zig Zag Vest
Christmas Wishes, Girl Stocking

11x19", 18M


Angel with Wreath Stocking Cuff

About 11 x 8".


Cardinal Angel Stocking Cuff

Approximately 8 x 11".


Red Angel Stocking

Beautiful angel with gorgeous wings ad dress. Wonderful areas to add great stitches and threads. Melissa Shirley. 11 x 22.5", 18M.


Stocking, Happy Santa

A delightful Santa with lots of gifts to decorate with beautiful stitches and embellishments. Rebecca Wood. ~11 x 19", 18m.


Stocking, The Nutcracker

Christmas trees and gifts surround this fantastic new Nutcracker. A fun to stitch stocking for your nutcracker fan! Rebecca Wood. ~11 x 19", 18m.


Stocking, Beach Santa

What a fun stocking this will be! Perfect for the beach lover! Labors of Love. 13 x 21".


Stocking, Christmas Trees and Gifts
Stocking Cuff, Christmas Trees on Pink
Stocking, Elegant Santas

Elegant miniature Santas! Design by Alexa.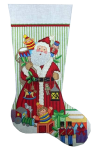 Stocking, Father Christmas

Beautiful design by Alexa.


Stocking, Little Boy
Stocking, Little Girl

Perfect for that special little girl! Design by Alexa.


Stocking, Lots of Santas
Stocking, Nutcracker and Pine Cone
Stocking, Nutcracker with Popcorn Garland
Stocking, Peter Ashe House
Stocking, Reindeer Hugging Tree
Stocking, Santa and Animals
Stocking, Santa by Window and Reindeer
Stocking, Santa on Reindeer
Stocking, Santa with Boy Gifts
Stocking, Santa with Teddy Bear and Packages
Stocking, Santa with Gifts
Stocking, Santa with Gifts and Bunny
Stocking, Santa with Sack
Stocking, Snowman Family
Stocking, Angels, Home and Train
Stocking, Santa and Little Boy Sleeping
Stocking Cuff, Santa with Gifts, Toys, Candy Canes and Flag
Stocking Cuff, Santa with Guitar
Stocking Cuff, White Angel
Stocking, Gingerbread Houses
Stocking, Red Coat Nutcracker
Stocking, Trucks and Sailboats
Stocking, Western Santa
Stocking, Woof Christmas