Fancy Witch Hat

Brand New From Melissa Shirley! This Fancy Witch Hat has a lovely bouquet of flowers on the hat band! So many fun options to stitch this Halloween design. 5 x 6", 18M.


The Friendship Tree

A new Day of the Dead canvas by Manuel Salas! A couple stands in the center of the tree dressed in traditional garb that will be amazing to stitch! Distributed by Tapestry Fair. 14 x 16", 18M.


Bathing Beauties

Day of the Dead friends at the beach! What an amazing design for you to embellish and stitch! A Manuel Salas design for Tapestry Fair. 12 x 16", 18M.


#Halloween Sign
Angel, Witch with Broom

Painted Pony's newest witch angel! Dressed in a great dress for stitching patterns as they are painted. She's ready to fly on her broom! A broom charm and a moon charm are included. 5.25 x 4.5", 18M.


Candy Corn Abstract by Melissa Shirley and Guide
Candy Corn Striped by Melissa Shirley with Guide
Candy Corn with Leaves by Melissa Shirley and Guide
Drop Shape Halloween Cat
Drop Shape Scarecrow
Framed Dracula

Festive Halloween decoration of a Framed Dracula


Framed Red Hair Witch

Framed red hair witch for Halloween


Frankie

Frankenstein painted by Labors of Love on 18 ct. 2.5 x 4.5"


Hallo Queen
Halloween 3D Hat Pumpkin
Halloween 3D Hat Witch House
Halloween Canvas with stuffed witch insert
Halloween Cat in High Heeled Boots
Halloween Ornament, Candy Corns
Halloween Sampler
Halloween Tricks Basket with Stitch Guide and Embellishments

A fantastic 3D Halloween basket holds an assortment of fun to stitch goodies! Stitch Guide and Embellishments included! Let us pull the threads and you are set to go! Design by Kelly Clark. 7x7", 18 ct.


Happy Halloween by Sandra Gilmore
It's Halloween! by Sandra Gilmore
Jack O'Lantern Treat
Little Halloween Sock BOO and Ghosts
Little Halloween Sock Candy Corn and Pumpkins
Little Halloween Sock EEK and bats
Little Halloween Sock FLY and Witch Hats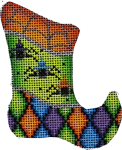 Little Halloween Sock Spiders and Web
Little Witch Dress by Melissa Shirley
Little Witch with Cat
Little Witch with Crow
Little Witch with Pumpkin
Mini Halloween Hat
Old Crow

A great black crow sits on a pumpkin with his hat on! Beautiful sunflowers and a a little spider are great places to add ribbon work and beading. Melissa Prince. 10 x 10", 18M.


Owl on Birdhouse Perch
Pumpkin Folding Evil Eyes
Pumpkin Folding Happy Smile
Pumpkin Folding Scared!
Really big Cleopatra!
Really Big Pumpkin Man!
Really big Skeleton!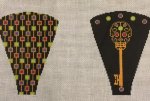 Skeleton and Key Scissors Case
Skull and Crossbones Hinged Needle Case
Small Pumpkin

Stitch this pumpkin with fun pumpkin for your Halloween decor! Folds into a small 3-D pumpkin. Labors of Love, 18 ct. 9 x 4".


Spooky Ghost

Spooky Halloween Ghost


Spooky Kids
Steampunk Cat
Steampunk Witch
Tricks

Fun, festive Halloween decoration


Which Broom?
Witch and Home with Guide by Shelly Tribbey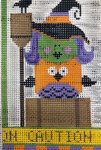 Witch with Purple Hair and Owl