Designer Bag
G's and Stripes Gray/Blue Bitsy Flat

Finish as Coin/Credit Card Holder. 4.5 x 3.25", 18M


Everything Chanel Bag

Fantastic double sided canvas that makes a perfect bag. Gorgeous to stitch with a few unique stitches or simply beautiful to basketweave using a variety of threads. Kimberly Ann.


Everything Gucci Bag

Famous Gucci logos designed as a gorgeous sampler. This would be perfect to basketweave using all types of silks and metallics. Some patterns can be used in larger areas if desired. Second photo shows how this bag will look finished. Kimberly Ann.


Be My Valentine Hearts Purse

A fantastic assortment of hearts that are perfectly painted to add fun stitches and embellishments. Double sided to fold. JP Needlepoint. 18 x 8", 18M.


Bag, Mah Jong Bird Tiles
Bag, Mah Jong Seasons Tiles
Chanel Bag in Round
Fold over Bag with Blue Umbrellas

Check out the second photo to see how this perfect bag is finished!


Hermes Bag in Round
Tote, Mini Tote in Green, Blue and Orange

A very little plaid tote that can be stitched fast! Finish with a coordinating fabric for the back and straps to have a mini tote that can hold a surprise item such as a key, jewelry, credit card and more, see the example. Canvas Connection. Finished si


Vanity Bag, Gucci
Vanity Bag, Louis Vuitton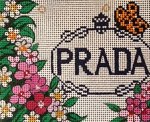 Vanity Bag, Prada