Amanda Lawford's Texas/Oklahoma Santa

A Santa for anyone who lives or has lived in Texas or Oklahoma. This heirloom piece includes a cow, an American flag, a bronco riding cowboy, boots, an armadillo, a covered wagon, a yellow rose and more! Amanda Lawford. 13.5" tall, 18 ct.


Belt Texas Symbols on Yellow
Christmas Ornament: Merry Xmas Y'all
Christmas Ornament: Texas Things!
Lidded Gift Box: Deep In the Heart of Texas
Longhorn Shopping Lady
No Place Like Home
Texas Boot

This Texas Boot will help show your Texas pride and your needlepoint work.


Texas Wreath

Have a great time stitching all the things you love about Texas! A longhorn, Texas flag, mockingbird, the Alamo, cactus , bluebonnets, an Indian paint brush to name a few are incorporated! Melissa Prince, 10" round, 18M.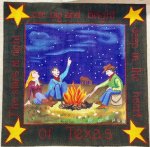 The Stars are Bright Border with Camp Fire Scene
Travel Ornament-Texas

Remember your home or a holiday with Kirk and Bradley's Texas travel ornament. 4" round, 18M.