Encore! Back by popular demand!

Pretty Packages


Call us in
December to sign-up!
We have three series with four specific Pretty Package canvases in each series. You may choose one or all of the series.

Threads are shared in each series. You will get one canvas per month.

If you choose to stitch all the series you would have a total of 12 packages for a wonderful display!
Our revised Pretty Packages version has new threads, stitches and embellishments. Beautifully stitched by Kathy Kulesza.

We have finished ours with ribbons and bows. Notice the unique embellishment included in the bow toppers.


SERIES ONE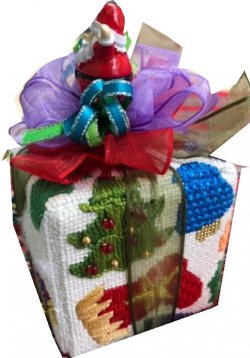 Series 1: Trees and More Pretty Package, two views.





Series 1: Round Gold and Jeweled Pretty Package





Series 1: Multi Santa Pretty Package, two views.




Series 1: Light Bulbs Pretty Package